As a dog breeder, animal health is my top priority. That's why I enthusiastically recommend and ask all of our puppy buyers to have when taking their new babies home, NuVet Plus immune system builder. Simply put, it is the best nutritional supplement available today.
To assure your puppy gets off to the right start, they have been enjoying NuVet Plus every day as a treat (they love the taste). Continuing this daily regimen is the easiest and best way to keep your pet on the path to perfect health!
Hundreds of thousands of dogs and cats are using NuVet to support their immune system and provide optimal health. A strong immune system will protect them from environmental and food toxins such as back yard pesticides, hormones, germs from public places, and even toxic formaldehyde in furniture and carpeting. NuVet Plus will not only protect but also help them maintain a beautiful skin and coat.
This is not just a vitamin. It's an immune system builder with a precise balance of vitamins, minerals, omega fatty acids, amino acids and high-potency antioxidants. That's why it works so well through all three stages of a dog's life.
For puppies - Fills the immunity gap all puppies experience. Shortly after birth maternal antibody effectiveness is greatly reduced. By 8 weeks your puppy's immune system is at a vulnerable point. Once in their new home, the immune system is weakened by the stress of adoption and exposure to novel bacteria and viruses in their environment. This is also when the vaccine series is started. Vaccines are most effective if the immune system can respond properly. Starting NuVet Plus now is important to helping your puppy grow into a healthy adult.
For dogs in their prime - Improves the luster of their skin and coat while providing the necessary antioxidants, amino acids, vitamins, mineral and more to sustain their body's peak performance during the prime of their lives.
For older dogs – Helps provide the nutritional requirements to help them live long, happy, and productive lives in their senior years. NuVet is not available in stores, and is only available to the general public with an order code from an authorized pet professional.
For your convenience, you may order directly from the manufacturer by calling 800-474-7044 and using Order Code: 86438, or ordering online at www.nuvet.com/86438. You can also save an additional 15% and assure you never run out of NuVet by choosing the "AutoShip" option at check out.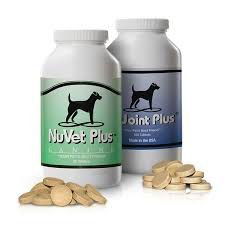 XL DOUBLE DOOR FOLDING DOG CRATE ideal for Dogs w/ adult weight of 90 to 110 pounds | Convenient divider panel allows crate to expand as Your dog grows | iCrate measures 48L x 30W x 33H inches
Your DOG'S Home WHILE YOU'RE AWAY FROM Home | Durable Design creates a safe place for Your pet while you're away & caters to Your dog's natural "den" instincts
SAFE & Secure Home | Two heavy duty slide bolt latches firmly locks dog crate door in place keeping Your dog safely inside their dog crate
Easy Assembly & Portable Design | Sets up in seconds w/ no tools required for assembly & folds flat for convenient storage or Travel | Roller Feet protect hardwoods, make repositioning Easy; Wire Spacing: 1.5 inch x 7.875 inch
While some people think it's cruel to crate train your puppy, I honestly believe it is cruel not to. Just like a baby, a puppy will get into anything and everything! This includes eating eltrecical cords, toxic household items, small objects that could rupture you new pup's stomach, and so much more. It is better to be safe than sorry when it comes to your new baby, and I highly encourage you to crate train for their own safety. You will need this crate until puppy is almost a year old, I recommend the Large or XL so that your new puppy can grow into it. Please do not start out with a small crate or add the divider. If your puppy has to go potty and cannot hold it, it is then forced to sit and lay in it's own filth which is incredibly cruel. The crate should be large enough for your puppy to stand up, lie down, and move around comfortably. A lot of times this becomes their den area, and they will end up WANTING to sleep here as adults.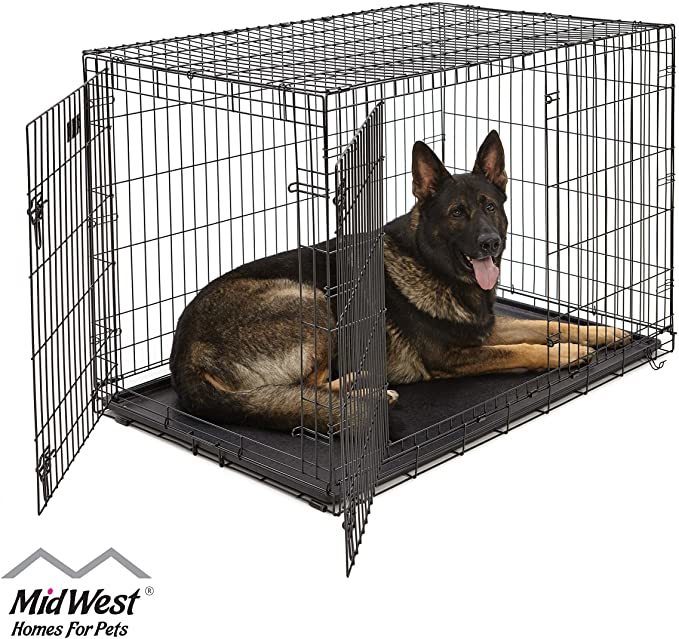 Eukanuba Large Breed Puppy Food
Eukanuba Puppy Large Breed dry dog food is complete and balanced nutrition for large breed puppies up to 15 months old with an expected adult weight over 55 lbs.
Supports muscle growth and bone health in active pups with high-quality animal protein and optimized levels of calcium and phosphorous
Supports healthy brain development with clinically proven levels of DHA for smarter, more trainable puppies
Provides concentrated energy from fat and carbohydrate levels beneficial for growing puppies
High-quality chicken is the first ingredient for protein that powers their day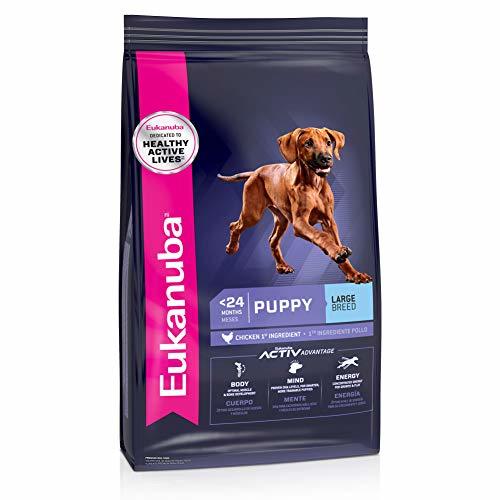 This is what we are currently feeding our puppies and young adults.
High Quality Protein Made With Real Pasture Raised Lamb; For A Growing Large Breed Puppy With Optimal Amino Acid Profile For Lean, Strong Muscles
Premium Ingredients With Added Vitamins & Minerals; Superfoods For Antioxidants; Fatty Acids For Skin & Coat; Guaranteed Levels Of Glucosamine & Chondroitin
A smaller kibble, nutrient rich & HIGHLY DIGESTIBLE with PROPRIETARY PROBIOTICS at guaranteed levels; DHA for BRAIN & VISION. For pregnant or nursing adult dogs, we recommend free-choice feeding. Remember to keep plenty of fresh water available to your pet at all times
FAMILY OWNED & run, MADE in the USA choosing ingredients from TRUSTED, SUSTAINABLE sources around the world; Call with questions 800 442 0402
NO corn, wheat, filler; NO ARTIFICIAL flavors, colors, or preservatives added; Made with scientifically advanced food safety protocols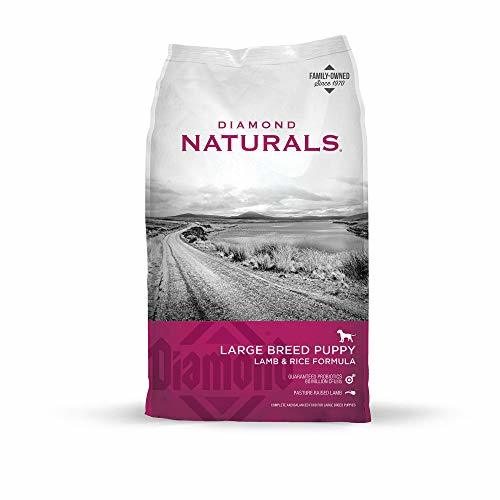 Stainless Steel Bowls Set for Water & Food
Spill Proof bowls that are perfect for clumsy, energetic new pups.
Full Set Of The Dog Bowl (38oz For Each Bowl), Works As A Set With Food Or Water For One. Suitable For Feeding Medium, Large dogs, Cats And Other Pets Puppy
Protect Your Floor - Flexible Silicone Mats Keep Dog Food Bowl Staying In The Same Place, Raised Lip Design Prevent Spills And Keep Your Floor Clean
EASY TO CLEAN Your Cat Food Bowls. Silicone Stand And Stainless Steel Dog or Cat Bowl Are Both 100% Dishwasher Safe
Great Large Dog Bowl Set - Rust Resistant High Quality Stainless Steel Dog Bowls With No-Spill Food Grade Silicone Mat - Non-Skidding & Flipping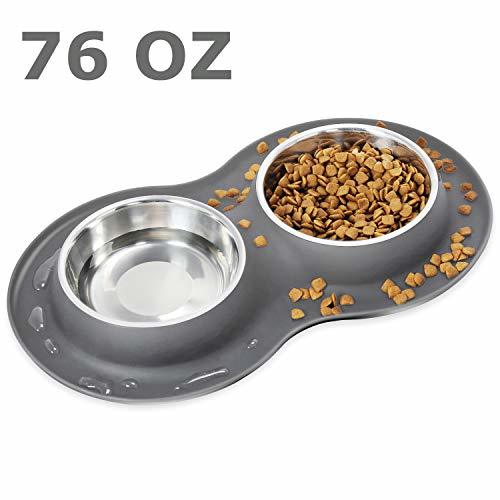 The three prongs in the center of the bowl help to reduce bloating by forcing your pet to slow down when they eat.
Veterinarian recommended and approved to help improve your canine companion's portion control.
No-slip-grip around the bottom of the bowl keeps it secure while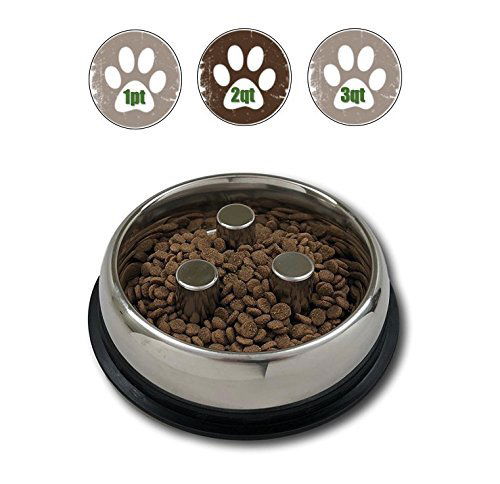 Whippy Stainless Steel Dog Bowl Set
🐾 Food-Safe stainless steel dog bowl, polished to a mirror sheen. Resists rust, corrosion, and is dishwasher safe and easy to clean.
🐾 The rubber on the bottom can effective reduce noise and skidding when your pet is eating, also can protect the floor from scratch.
🐾 This dog feeder bowl can stimulate your pet's appetite for more healthy growth.
🐾 Each bowl large size holds 2 1/2 cups food (16oz.), the top diameter of L bowl is 7.9 inch and bottom is10 inch, height 2.36 inch.
🐾 Package: 2 pcs of stainless bowl. 13000 hours lifespan results economic and practical selection of this bowl.

We've tried a lot over the years and these are one of our favorites.
TRIM YOUR PET'S NAILS SAFELY: It's easy to make a precise, safe cut with our semi-circular blades. Your pet's nail rests in the semi-circle - you see precisely where you're cutting - no guessing.
A GENTLE SQUEEZE IS ALL IT TAKES: Epica's high-grade stainless steel holds its sharp edge and won't dull - so clipping nails is effortless and a whole lot less scary for both you and your pet.
LOCKS CLOSED WHEN NOT IN USE: Your know your clippers are always in safety mode when you aren't using them - just squeeze the handle and slide the lock into the safe position. Curious kids stay safe.
RUBBER COATED HANDLES FOR A SECURE GRIP: The handles feel incredibly comfortable in your hand because of the non-slip rubber coating. Together with the rounded blades, you can clip confidently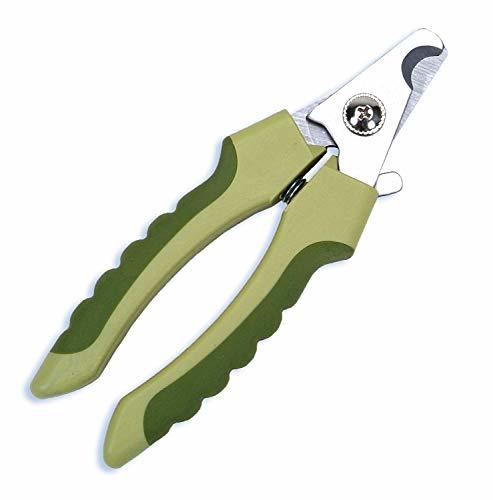 These are actually cat nail clippers but they work wonderfully when puppies are too little to use the adult clippers.
FOR SMALL PETS: Our claw scissors have been designed to be used on small animals, such as dogs, kittens, puppies, birds and bunny. Use them as kitten nail clippers or as general pet nail trimmers.
SAFE & EASY TO USE: Fitted with razor sharp blades made out of stainless steel and an ergonomic grip made out of a top grade plastic the production of these clippers does not harm the environment.
Quick stop is great to have on hand in case you cut the nail too short and hit the quick. If this happens, put some quick stop powder on quickly to stop the bleeding
Largest-selling styptic powder in the world
Quickly stops bleeding caused by clipping nails, docking tails, and minor cuts
Kwik Stop Styptic Powder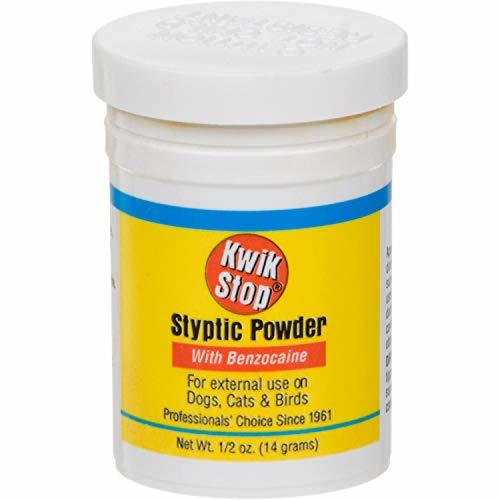 MULTIFUNCTIONAL GROOMING TOOL - Deshedding & grooming; Removing dead undercoat; Massaging; Cleaning dust & dirt; Burnishing the coat of pets; Suitable for short or long Haired dogs and cats
COMFORTABLE PINS & SOFT BRUSH - Rounded heads of pins and ventilation hole ensure a soft & gentle touch to skin for comfortable grooming. Soft bristle brush easily knock off loose hair and dirt, help the pets own a shiny coat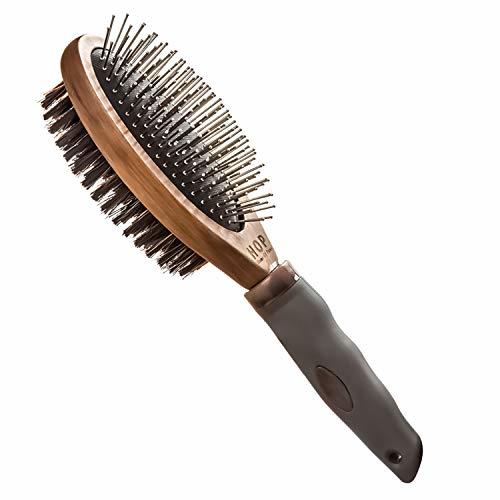 Lavender Pet Wipes for Dogs & Cats Strong Grooming Wipes
CALMING SCENT: Lavender Oil, Vitamin E and Cucumber Extract work together to help calm your fur baby, relieve stress and anxiety and soothe itchiness.
GENTLE PLANT-DERIVED FORMULA: Our simple 7 ingredient formula contains NO alcohol, NO sulfates, NO chlorine and NO parabens for a gentle, yet effective clean.
EXTRA STRONG AND SOFT WIPES (7 x 8 inches): Each wipe is strong enough to stand up to the toughest dirt and soft enough to use on even the most sensitive areas.
FRESHEN UP BETWEEN BATHS: Clean off and deodorize paws, coats, behinds and more with these all-purpose grooming wipes.
CONVENIENCE ON THE GO: These 100-Count wipes are stored in a handy resealable pouch that keeps each wipe moist for longer. Click 'Add to Cart' now for a hassle-free clean!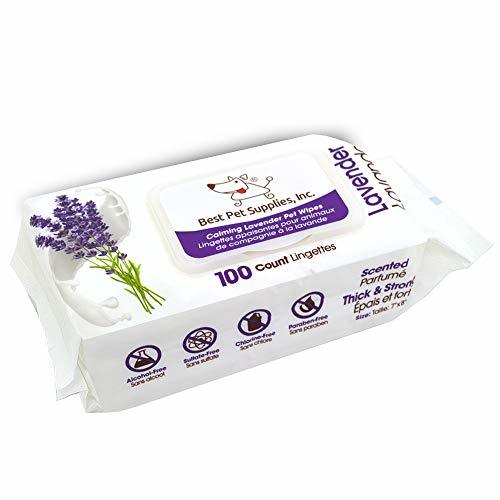 NonScent Dog Wipes- Deodorizing Pet Grooming Hypoallergenic Wipes
CLEANS AND DESTROYS BAD ODORS: Removes dirt, poop, mud, and other messes, while completely destroying odor-causing compounds at the molecular level…even skunk spray!
EASY TO USE: Simply pull wipes from the package, wipe down affected areas of your furry friend, and throw the wipes away!
SAFE: NonScents Deodorizing Dog Wipes will not harm you or your pet. Their unique patented technology uses organic, biodegradable chlorine that won't leave residue.
WORKS ON ALL COATS: Short fur, long fur, fine fur, coarse fur – these wipes work for everyone.
Miracle Care Eye Clear Sterile Eye Wash Wipes
Fast, easy application
Less waste when applying
Exclusive Eye Clear Formula
Also available in eye drop formula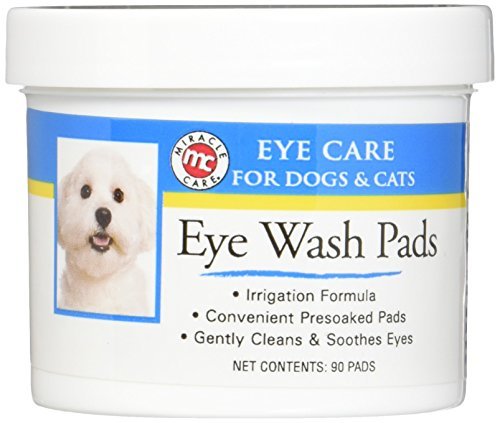 All Natural Oatmeal Dog Shampoo
NATURE'S BEST INGREDIENTS - Other than conventional pet shampoos that are filled with ingredients you can't even pronounce, Mr. Hempy's shampoo contains only premium quality natural ingredients that are effective and still gentle on your fur baby's coat and skin, fortified with Vitamin D & E and Omega 3, 6 and 9 that won't irritate your dog's eyes, nose or skin while bathing.
FORMULATED FOR SENSITIVE SKIN: We combine organic Hemp seed oil with oatmeal and Lemongrass which are all known for their soothing properties and restoring the natural moisture balance in pets. This trio combination can relieve your pet from ITCHY and DRY skin naturally and leaves behind a happy, great smelling dog with soft and moisturized fur and skin!
MAKE BATH TIME A PLEASURE - The gentle SOAP-FREE and DETERGENT FREE Shampoo + Conditioner is TEAR-FREE, PH-BALANCED, lathers well and is easy to rinse out. It is made with a natural coconut-based cleanser which is effective and extremely gentle on your pet's skin. Even our mild and organic coastal flower fragrance is made from natural food-grade scent which keeps your pet looking fresh and smelling clean for several days.
OUR COMMITMENT - We care about your pet and the world we live in, that's why our shampoo is PARABEN FREE, ALCOHOL FEE, it doesn't contain ARTIFICIAL COLORS and of course, it's CRUELTY-FREE and BIODEGRADABLE. Because all pets deserve a quality life and a chance of living that life in optimal health and wellness with no harmful impact on the environment.
I recommend this for puppies because of the more natural ingredients and tear free. Giving a wiggly puppy a bath can be challenging and soap can end up in their eyes easier than you would think!
Effective And Safe: Best Puppy Shampoo, Highest quality professional grade formula. Leaves your puppy smelling great with their coat in wonderful condition.
Naturally Derived Formula: Made from coconut oil. Beware of cheap synthetic shampoos!
Gentle: No Sulfate, Parabens, Phosphate, MEA or DEA. The Very Best Ingredients In a Shampoo For Puppies Over 12 weeks.
Easy To Use: Wet your dog's coat, apply product and work into a rich lather. Then simply rinse! Puppy Washing is fun too!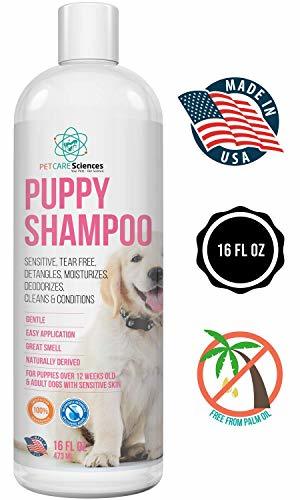 All Natural & Hypoallergenic Shampoo With Aloe & Lemongrass
DOG SHAMPOO MADE WITH USDA CERTIFIED ORGANIC OILS AND ESSENTIAL OILS: Our 100% non-toxic natural hypoallergenic pet wash is handcrafted in small batches using plant based vegan ingredients like organic coconut oil, organic lemongrass essential oil – a natural flea deterrent - and soothing aloe vera. You have our promise of no synthetic or artificial chemicals! A little goes a long way to get rid of that wet dog smell!
#1 CHOICE FOR HOLISTIC VETERINARIANS AND NATURAL GROOMERS - Since 2015, industry leaders have recognized 4-Legger as the most dependable dander reducing hypo-allergenic shampoo for normal / dry / itchy / allergy / sensitive skin. See all our certifications in the images to see why we are not only great for our pets but also our planet. Contains NONE of the synthetic artificial or toxic chemicals found in OTHER dog shampoo.
WE DON'T COMPROMISE PET HEALTH FOR ATTRACTIVENESS – Our easy to lather and rinse lemongrass citrus shampoo naturally moisturizes by utilizing your pet's natural oils to maintain a soft and shiny coat without artificial thickeners that add toxicity to your dog's bath. Unfortunately, most other brands still depend on harmful artificial and toxic ingredients to achieve this. 4 Legger is safe for newborn pups, senior dogs, and even humans to use!
ONLY 2% OF DOG SHAMPOOS REALLY ARE CERTIFIED ORGANIC - Don't fall for common marketing gimmicks used by pet grooming brands to fool you into buying the same harmful formulations while paying a premium for "organic" and biodegradable We proudly display all of our ingredients and are USDA certified to food standards; we aren't just making this up!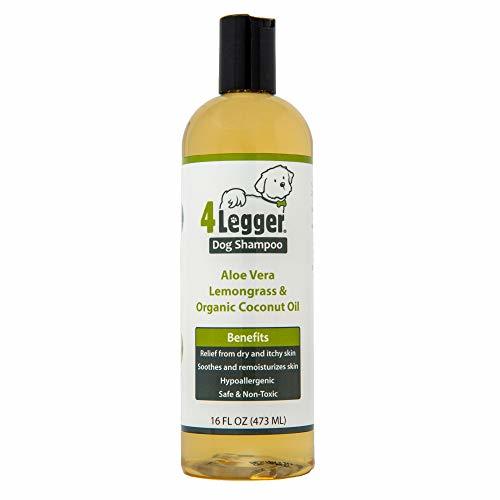 Fresh N Clean Dog/Puppy Cologn
This is how we keep our puppies smelling so sweet!
Fresh Floral Scent cologne helps to keep pets smelling good by controlling body odor between baths
Delicate scent rids pets of doggie odor" for months"
Long-lasting scent helps keep pets smelling fresh and clean by controlling body odor between baths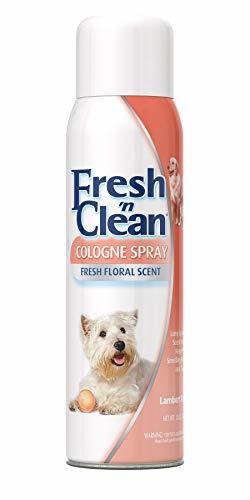 This rug is water absorbent, has a non slip back, and is washing machine washable which is why I love it for our puppy crates and also to lay around the house for traction. Things like hip and elbow dysplasia are only a small percentage genetics, and a very large part environmental. This means that as puppies grow we want to be as easy as we can on their growing bodies and things like rugs around the house to keep the from slipping is HUGE!
Ear Cleaner cleanses your pet's ears by flushing away excess earwax, dirt and debris, promoting healthy ear functions.
It helps fight bacteria, fungi and mites, supporting the body's immune defenses against infection. Having clean ears helps aid in preventing excess scratching and paw rubbing around the area, and limit odor or discharge from the ears.
VETERINARIAN FORMULATED to Gently Clean, Deodorize, Acidify and Dry Your Pets Ears
SAFE AND GENTLE Ear Cleanser with Aloe Vera for Daily Use. Won't Sting, Burn or Aggravate the Ear Canal
Eliminates Build Up of Wax, Fluid, Dirt & Debris to Stop Itching/Scratching, Head Shaking and Irritation
RELIEVES INFECTIONS: Caused by Mites, Yeast and Itching.
Made in the USA in Federally Regulated Manufacturing Facilities to Ensure Quality and Safety.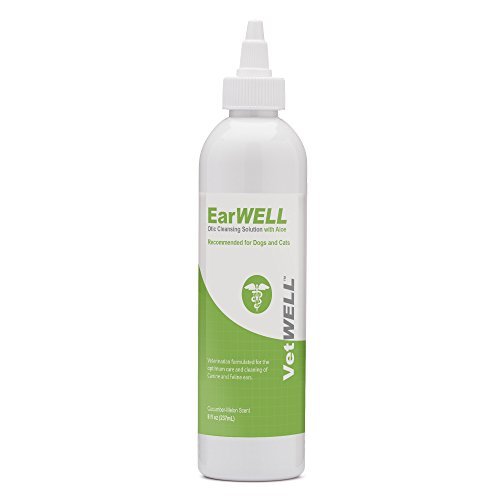 Aloe Vera Vet Recommended Ear Cleaner
ELIMINATE CONSTANT HEAD SHAKING & ITCHING – Painful itching and scratching, as well as annoying head shaking can drive your dog crazy. Mighty Petz ear cleaner for dogs and cats is a perfect cleansing solution for maintenance of infection-prone ears. No matter what size or breed your pet is - a grown dog, a puppy or a cat - our ear drops will help to stop the itch! Your pet's health is our priority, so if you're not satisfied, reach out to us and we'll do our best to make things right.
REMOVE WAX, DEBRIS & UNPLEASANT SMELL WITHIN 3 DAYS – Dogs, especially those with floppy & hairy ears, have a tendency to get ear problems. Our ear cleaner removes the wax, gunk and grime, prevents its build up and creates an unfavorable environment for the growth of most of the things that cause ear problems. This way, it doesn't just mask the unpleasant smell, but fully eliminates the cause of it and leaves a pleasant scent of fresh CUCUMBER & MELON in your pet's ears!
MINIMIZE VET VISITS & EAR ISSUES – Ear infections are one of the most common reasons for vet visits! The best way to save your pet the pain, irritation and take the stress off your shoulders is prevention. Our ear flush relieves itchy, red and inflamed ears and helps you to remove the cause, not only the symptoms of ear problems in pets. Mighty Petz Ear wash is a perfect dog and cat ear treatment support!
VETERINARIAN FORMULATED FOR SENSITIVE EARS WITH SOOTHING ALOE VERA - Our 4-in-1 formula ear flush is made to clean, dry, deodorize pet's ears, as well as to create an environment in their ears that is unfavorable for most ear villains to thrive. All in one go! Great to keep problems-prone ears balanced & clean! Gentle for your fur baby's ears - doesn't sting or burn - but still effectively mitigates itching and scratching. Safe to use on a regular basis, even daily or between treatments.
MADE IN USA - GENTLE YET EFFECTIVE EAR CLEANER YOU CAN TRUST – Our otic flush is manufactured in a GMP-certified facility and 3rd party tested by an independent lab to deliver the best results when used as recommended.
😝Bitter Apple Spray DETERS CHEWING: 5 X MORE BITTER THAN THE LEADING ANTI-CHEW SPRAY ON THE MARKET! It's gentle alternative to harsh training methods that can be cruel to your pet. Anti-Chew spray trains your pet to stop chewing, biting, and licking your furniture, shoes, toys, cords and other household items. BITTER APPLE SPRAY will not harm your pet or the surface it is sprayed on. It simply makes the surface its sprayed on taste bitter and basically YUCKY 😝
✅100% NON-TOXIC, SAFE, STING FREE - doesn't burn or sting the skin! PREVENTS LICKING FOR AREAS THAT YOU DON'T WANT YOUR PET TO LICK OR CHEW - Our spray won't hurt your pet or the things it's sprayed on! This formula of bitter extracts spray is a safe alternative to other sprays that contain harsh chemicals and additives while being 5x MORE bitter than other sprays on the market WITHOUT harming your furry family members or those doing the spraying!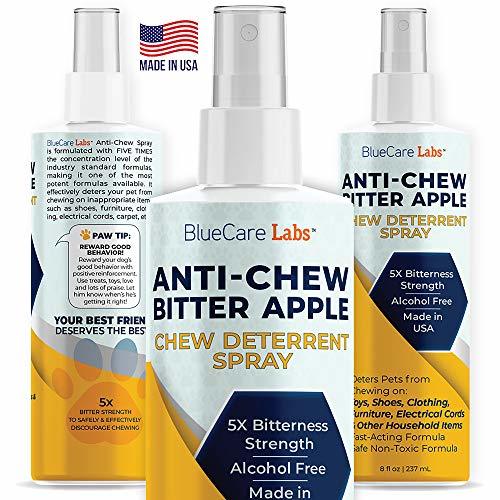 ---
You puppy is teething and needs things that it is allowed to chew on. Stay away from things with stuffing in them, or anything else they could potentially chew up and swallow. Latex and rubber toys are fine but, you will just have to watch out for squeakers if puppy ever chews apart the toy. When you puppy is young you can give them rawhide bones as well, but be cautious with that as they get older because you don't want them tearing it apart and ingesting pieces. That could potentially be fateful for them.
Never give your puppy or adult dog any steak bones or ham bones etc. Bones can splinter their throats and be dangerous.
I also do not recommend pig ears, snouts or cow hooves. These items are a by-product of the slaughter house and have been linked to salmonella. They also can make dogs very sick, so it's best to just avoid altogether.
I very highly recommend interactive toys for your puppy. Labradors have been bred to be working dogs with jobs and are EXTREMELY intelligent. That's why it's such a great idea to give them goals to work towards and "jobs" that challenge their growing minds.
🐶【Trains Your Dogs Brain】- Solving puzzles develops your dog's intellectual skills.Train your puppy with the dog treat toy to increase their eagerness to learn by pairing treats with playtime. Instead of the boring dog rubber toys and chew sticks.
🐶【Emotional Interaction】- The dog treat toy keep your dog occupied & mentally stimulated for long periods of time,reduce destructive behavior.Frisbee games enhances interaction with dogs and improve interests,it will increase emotion with your pet.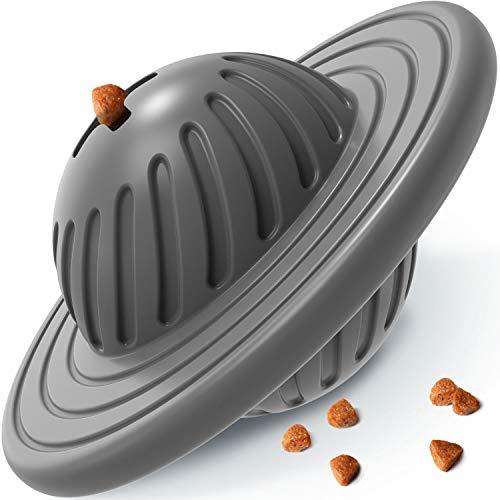 Aipper Dog/Puppy Toy Pack Of 12
Your puppy will go through so many toys and I've found that it's cheaper in the long run to just buy a bundle. I love the 2 bundles I've listed here because they don't have any toys with stuffing or plush, which can be dangerous to your puppy if ingested.
12 Pack durable dog toys with interactive toys, IQ treat ball, flyer dog toy ropes toys, chew toys, 2.4 inch bounce rubber balls that can float on water, squeaky toys, shoes toys. Keep your best friend entertained for hours of entertainment and exercise.
Dental Cleaning: Doggies get teeth cleaning, gums massage and stress relief when play these puppy chew toys, help to redirect bad biting behavior.
High Quality & Non-toxic: Well made of high quality material, non-toxic and safe, Not easy to bite broken by your puppy. Clean and inspect after each use, remove damaged pet toys.
Random & Beautiful colors: Beautiful colors will be sent at random, all puppy toys look pretty and attractive, ideal for small and medium dogs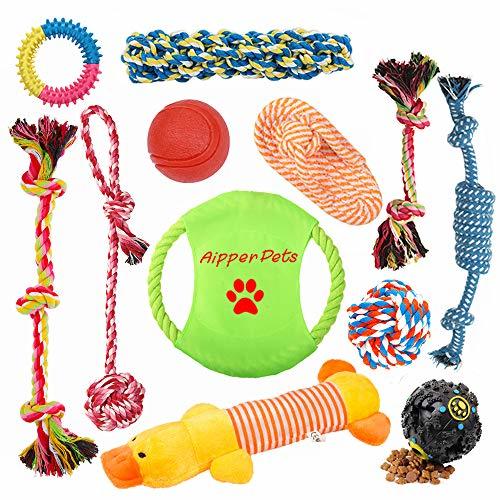 Rubber Kongs are a tried and true toy for dogs and puppies that are just wonderful. We like putting treats in ours to give our dogs something to work towards and stimulate their minds.
APPROPRIATE CHEWING: The KONG Puppy soft rubber formula is customized for a growing puppy's baby teeth and gums. This gentle, but long lasting toy helps satisfy instinctual needs and provides mental stimulation. By encouraging healthy play and satisfying instinctual needs, this toy helps solve chewing, separation anxiety, teething, boredom, weight management, crate training, digging, barking and more!
FETCH TOY: The KONG Puppy's unpredictable bounce makes for exciting games of fetch and other interactive play with your pet.
TEETHING PUPPIES: The KONG Puppy rubber formula is created for power chewing dogs.
GREAT FOR STUFFING: The stuffable KONG Puppy is even more enticing when stuffed with puppy kibble, peanut butter, KONG Puppy Easy Treat, Snacks or Ziggies. Dishwasher safe for easy clean up. BONUS: For an added challenge, freeze stuffed KONG for 4-6 hours before giving to your puppy.
VET RECOMMENDED: Veterinarians and trainers worldwide recommend the KONG Puppy. Made in the USA. Globally Sourced Materials.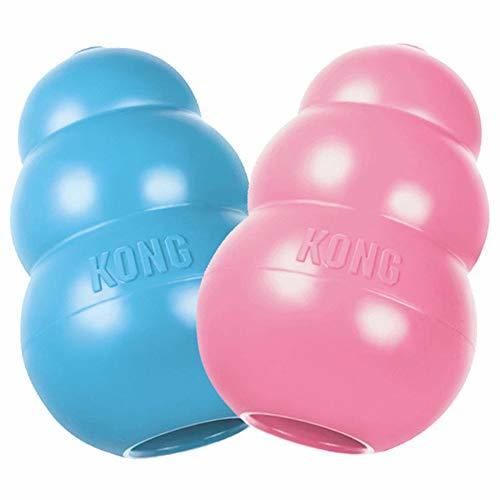 Puppy Teething Toys Pack Of 14
Your puppy will go through so many toys and I've found that it's cheaper in the long run to just buy a bundle. I love the 2 bundles I've listed here because they don't have any toys with stuffing or plush, which can be dangerous to your puppy if ingested.
UPER VALUE SETS FOR ALL OCCASIONS: 14 pack pet toys for dogs, contains 9 COTTON TUG ROPE DOG TOYS, IQ TREAT BALL, RUBBER DOG TOOTHBRUSH STICK, BANANA DOG TOY, RUBBER BONE and FRISBEE. Great value for amount of cute dog toys you get which meet different requirements of dog's daily life such as teething, training and interactive playing. Our dog toy pack is the best friend to accompany dogs to grow up and plays an important role in the childhood of your dog.
DOG TEETHING TOY FOR PUPPIES: Dogs have a strong desire to chew everything in the house when teething. So by chewing our rubber toothbrush and bone toys which with soft spikes, dogs get gum massage and stress relief. These puppy teething toys not only clean the incisors like other toys on the market, but also help to clean dental plaque which hides in the dead corner, remove it and prevent decay. Keeping your puppy have healthy chewing behavior.
DOG TRAINING TOYS FOR SMALL DOG: A tired dog is a good dog. Chasing rubber frisbee is dogs' instinct, when playing frisbee games, dog will running more and exercise more. Squeaky IQ treat ball is a great dog enrichment toy to increase dogs' IQ when dogs learn to toss and roll it to get their snacks out. When dogs receive a healthy balance of physical and mental stimulation, they will be happy and well-adjusted.
Our dogs go crazy for these!
Loofa Dog by MultiPet is a funky style pet toy
Can be used as a retriever and a back scratcher
This toy will be your pet's favorite snuggly companion
Each Loofa Dog has a squeaker for additional interest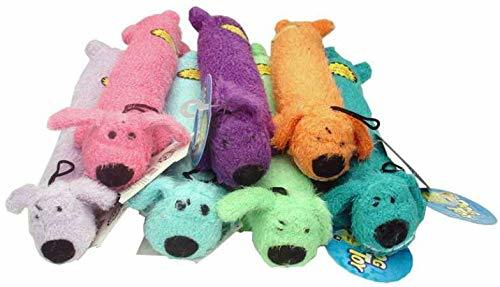 Slopehill Interactive Dog Balls
I very highly recommend interactive toys for your puppy. Labradors have been bred to be working dogs with jobs and are EXTREMELY intelligent. That's why it's such a great idea to give them goals to work towards and "jobs" that challenge their growing minds.
5 DIFFERENT DOG TOYS BALLS - They are Tough Durable Dog Toys for large dogs, medium dogs, and small dogs. All toy balls are made of safe, non-toxic materials to ensure the safety and health of dogs. You will get teething toys, squeaky toys, IQ treat toys, bouncy tennis ball toys, toss and fetch toys for dogs at the same time. Not for aggressive chewers
SQUEAKY BALLS - One blue spiked ball with squeaker and One orange squeaky jumping ball for interactive fun-fetching playing. When the balls are squeezed, they will make a loud cute sound to attract dogs' attention. The orange ball will bounce high when thrown to the ground, suitable for tossing and fetching games. Training dogs' reaction and leaping ability, positively enhance the relationship between you and your dogs
IQ TREAT BALL - One hollow IQ treat ball food-dispensing dog toy keeps dogs mentally and physically active while they play. Your furry friend gets smarter as they play with this interactive dog toy ball, learning how to roll the ball to get treats to fall out. Slower active eating with this dog treat dispensing ball reduces bloating and helps digestion
BUOYANT SOLID BOUNCY TENNIS BALL - This bouncy ball can float on water, special rubber material not sink in water, allow dogs swimming pool play, let your dog enjoy playing with water in crazy. Mild elasticity, avoid destroying when you throwing it and great choice for game of toss and fetch. Always supervise the use of chews and toys to ensure no accidental swallowing
BLUE DOG TEETHING BALL - Good elasticity, bite-resistant and non-toxic, safe for your puppy grinding and cleaning their teeth. It can be stuffed with pet snack, your pets will accept this toy easily and get more surprise while playing. NOT FOR AGGRESSIVE CHEWERS
A pool because Labradors are complete water dogs and Florida gets HOT!
PORTABLE: foldable, easy to store and bring with you and your dog everywhere
SIMPLE:No need of inflation,set up in no time. With bottom/side drain, easy to drain and refresh water
SLIP RESISTANT & DURABLE: made of extra-tough PVC. Thicker slip resistant material on the bottom
Size: Available in 5 Sizes.S---32" x 8", M---39.5" x 12", L---48" x 12", XL---55.1" x 12", XXL---63" x 12"
Enviromentally friendly material: EN71,ASTM standard. Please TRIM your dogs' nails before using the pool.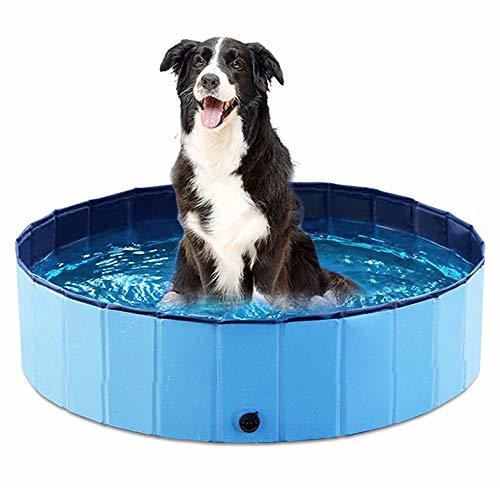 Absorbent Dog Towel, Microfiber & Fast Drying
With the water dogs that Labradors are, they will be soaking wet more often than not! These are great for a quick dry before coming back inside from swimming, going potty in the rain, etc.
SUPER ABSORBENT - This towel has been produced with soft, very absorbent chenille microfiber material to soak up any water or mud and dry your pet with minimal effort.. Our towel has two hand pockets each side, so you can hold your pet easily and get them dry quickly with very little hassle.
✔️ MICROFIBER DESIGN - The microfiber fingers work brilliantly cleaning off mud, dirt and absorbing water.
✔️ QUICK DRYING - Nobody likes the dreaded "wet dog" smell so we have ensured our pet towels dry quickly so it can be used over and over again.
✔️ MACHINE WASHABLE - Our pet towel is machine washable and dryable for easy cleaning and ensuring it is ready to be used again whether it be at the front door, in the car or in the bathroom.
Dino Chew-14 Count Rawhide free
Ours cant get enough of their Dino bones!
RAWHIDE-FREE: DreamBone DinoChews have all the benefits of a rawhide chew – without the rawhide.
NO GRAIN OR ARTIFICIAL COLORS: Made with real chicken and wholesome vegetables for a scrumptious taste dogs love.
ENRICHED WITH VITAMINS: These highly digestible chews are a healthy alternative to rawhide.
HELPS MAINTAIN HEALTHY TEETH: Chewing helps promote healthy teeth and gums.
DINOSAUR SHAPES: 14 fun dinosaur-shaped chews that your small dog will love.
Age Range Description: Young Adult
More natural treats that won't splinter and harm your puppy's throat.
Delicious Turkey And Sweet Potato Puppy Treats
Natural Puppy Treats With No Added Salt, Sugar, Or Artificial Colors, Flavors, Or Preservatives
Longer-Lasting Puppy Treats For Pups Who Love To Chew
Puppy Chew Treats For Puppies 3 Months And Older
Puppy Treats Made In The Usa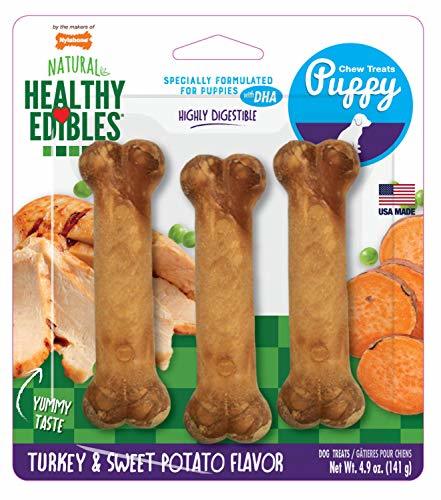 Zuke's Natural Training Treats Dog Treats
With a new puppy, training is essential. I love Zuke's because they don't have any artificial flavors and they're small bite size pieces that are ideal for puppies.
With less than 3 calories per treat, Zuke's Mini Naturals are ideal for use as training treats or as a small breed dog treats
Soft and chewy dog treats with real chicken as the #1 ingredient
These natural dog treats feature cherries and turmeric to help maintain a healthy lifestyle
No corn, no wheat, no soy. No artificial colors or flavors
Crafted in the USA using the Earth's best ingredients
Fruitables Dog Treats Pumpkin & Banana Flavor
Fruitables are more pricy than some brands but packed with vitamins and natural ingredients. They have many different flavors but this is one of our favorites!
Fruitables Baked Dog Treats Pumpkin and Banana Flavor 7 Oz
Oven baked crunchy treats made with fresh pumpkin, creamy banana and a touch of cinnamon will drive your dog into a drooling frenzy
Treats are rich in antioxidants and vitamins, high in fiber and less than 9 calories each, which means guilt-free indulgence for your pup
Crafted with a patent pending Calorie Smart recipe, these deliciously healthy treats are perfect for treating or training every day
Pumpkin is rich in antioxidants, vitamins A, C, and E and an excellent source of dietary fiber. Produced in the USA with the highest quality global ingredients
Nudges Steak Grillers Dog Treats, 36oz
Nudge's defiantly more pricy as well, but worth it.
Nudges is the No. 1 natural dog treat!*
USA Beef is the #1 ingredient
All natural ingredients
No artificial flavors. No artificial preservatives. No animal by-products.
Made in the USA
Blue Buffalo Wilderness Stix Grain Free Soft-Moist Dog Treats
Blue Buffalo is another great choice!
PACKED WITH REAL MEAT: Inspired by the rugged outback of Alaska, BLUE Wilderness Denali Stix are packed with wild salmon, venison and halibut to cater to your dog's wild side.
MANY WAYS TO FEED: These soft-moist and meaty dog treats can be fed whole as an irresistible snack or broken into pieces, making them perfect training treats.
GRAIN FREE DOG TREATS: Featuring only wholesome ingredients you'll love feeding, Wilderness natural dog treats are grain free and contain no chicken (or poultry) by-product meals, and no corn, wheat or soy.
Ark Naturals Brushless Dental Chews
\While brushing your dogs teeth regularly is a wonderful thing to do, realistically it doesn't happen as often as it should. That's why I love these dents; chews to help get rid of plaque and tarter build up. All of our dogs love this product!
FORMULATED FOR SMALL BREED DOGS: Our Vet recommended dental chew is specifically formulated for small to medium breed puppies and adult dogs between the weight of 8-20 pounds.
4-in-1 DENTAL CARE SOLUTION: Designed to substitute the use of a toothbrush, the Brushless Toothpaste offers a convenient and delicious pet dental chew.
ALL NATURAL DENTAL CHEW: The patented toothpaste soft center chew fights plaque, tartar and bacteria causing bad breath with natural ingredients such as chlorophyll, cinnamon, vanilla, and clove.
BRUSH TWO TIMES A DAY: For best results, we recommend a tooth-brushing regimen of two Brushless chews per day. The Value Pack allows for a full months supply of Brushless Toothpaste for your pet.
CAREFULLY CRAFTED IN THE USA: Our recipe is formulated with high quality and natural ingredients that are corn free, soy free, wheat free, and have no artificial colors or preservatives.
Beebiepet 2 Pack Classic Dog Leash & Collar With Quick Release Buckle
Each of our babies will go home with a brand new puppy leash and collar, but I recommend this one for your next size up. We've gone through many leashes and collars over the years and this is one of the most durable and sturdy ones we have found. It also has a comfortable grip that makes walking headstrong puppies easier and also keeps you from getting leash burn when your puppy unexpectedly takes off at 100mph!
WIDE SIZE RANGE: the Beebiepet classic dog collar size range is from XS to XL fits all breed of dogs. Please measure your dog's neck girth with a soft measuring tape to choose right size. please leave about 2 fingers breathing room between dog collar and dog neck
SAFETY AND CONVENIENCE: Quick release buckle helps you put on or take off the dog collar conveniently. No need to adjust the dog collar every time. The featured safety lock ensures 100% no accidental detachment
DURABILITY: Made of durable high-density nylon webbing, strong plastic buckle and stainless D-ring
EASY CLEANING: Machine washable is perfect for daily use. All metal accessories are rust-proof
BONUS DOG LEASH: 5FT durable dog leash with comfortable foam handle, extremely comfortable, no leashburn anymore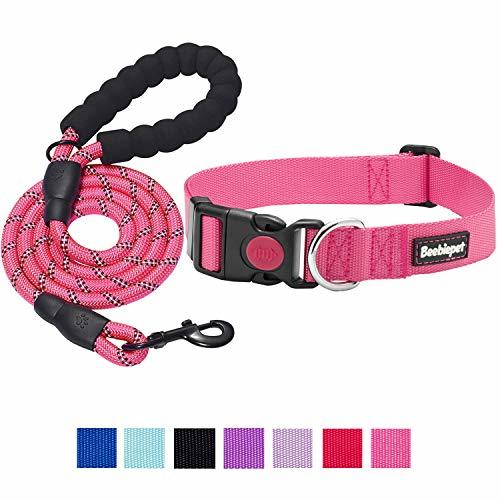 Heavy Duty No Pull Dog Harness & Leash Set
We love this harness for it's durability and also the fact that it takes pressure off your dog's neck and gives you better control with a more spirited dog. We also love that it's reflected for nighttime walks.
【 NO PULL & NO CHOKE 】tobeDRI dog harness featured with 2 strong metal delta shape-rings on front and back for leash attaching, front clip prevent pulling and back for relaxed walking. The 2 rings are sewn with durable thick nylon webbing and enforced box stitches and bartacks that preventing ripped off even pulling hardly. Pulling pressure is evenly distributed to the body to prevent choking
【 EASY TO USE AND LOCKING SECURITY 】The dog harness with simple design and quick snap buckles which make it easy to put on and take off. Locking feature on both snaps makes it more secure, 100% ensures no accidentally detachment. 4 easy size adjustors at neck and chest for easy adjusting to fit your dog perfectly, even with some room of growth. Perfect for daily walking, running, hiking, training, hunting, outdoor adventure and more!
【 DURABILITY 】Made of durable nylon webbing, enhanced high density nylon oxford, breathable mesh lining and strong accessories including buckle, size adjusters
【 EASY CLEANING 】Machine washable is easy for daily use. All metal accessories are rust-proof
【REFLECTIVE 】Reflective stitching maintains high visibility at night for safety


Nature's Miracle Stain & Odor Removal 128oz
An absolute must have for puppies is a good carpet cleaner. Accidents happen and it's good to be prepared! This is the larger bottle that you can dilute to make spray bottles that last you awhile.
Tough on urine, feces, vomit, drool and other organic stains and odors
For use on carpets, hard floors, furniture, fabrics and more
Enzymatic formula
Light, citrus scent
Safe for pets and home, when used as directed
Nature's Miracle Stain & Odor Removal
I love that this one is more natural and has that fantastic lavender scent.
SPOT STAIN & ODOR REMOVER: Begins to break down and remove stains immediately on contact.
LIGHT LAVENDER SCENT: Dog odor control formula gets your home smelling clean again.
ENZYMATIC FORMULA: Continues working as long as any bio-based mess is still present.
TRUSTED BRAND: From the maker of Nature's Miracle products, the pet stain and odor removing brand you trust… because it works!
SAFE FOR PETS AND HOME: When used and stored as directed, this formula can be used around your pets.


Nature's Miracle Urine Destroyer Foam
This is foam that helps get deep urine stains out of carpets. Highly recommend this one if you have any carpeting in your home. Great for grape juice spills too from toddlers too.. Ask me how I know that lol!
Works to eliminate strong urine and the Yellow, sticky residue that comes with it
Foam penetrates down into carpet to power out severe dog urine messes
Safe for use around pets and home when used as directed
Unscented Amazon Baby Wipes, Flip Tops, 720 Count
With dogs and a toddler, this is something we have in every room of the house and both vehicles! We use them on everything!
9 flip-top packs of 80 Unscented wipes
Pediatrician tested
Free from: Fragrances, alcohol, bronopol, dyes, parabens and phthalates
Gently cleanses
For use on face, hands and bottom
Made with naturally derived ingredients and purified water
While I do not recommend potty training with puppy pads because they will then learn that it's okay to potty on rugs and carpets and it can take a lifetime to undo these habits, I do recommend these for the crate, to sleep on, or to place food on. They hold really well and are that non slip to help give your puppy traction which will help with healthy growth. We have these all over the house and use them any time we go somewhere in the car to help with the shedding. It's so much easier to throw this in the wash than carpet clean all the van seats!
They're great dog crate floor protectors and non-slip food mats!
🐶100% WASHABLE AND REUSABLE –
💧ULTRA-ABSORBENT AND NON-SLIP – Our non-slip, multi-layered dog potty pads quickly wick moisture and hold more liquid per square inch than most other dog pee pads on the market. Now, dog potty training doesn't have to mean dirty floors and a stained house!
Here they are in different colors and shapes. We use these ones as whelping blankets as well to go in our puppy pool/whelping box
BEST IN CLASS ABSORPTION & ODOR CONTROL – 2 pack (1 grey & 1 tan) of 17" round premium puppy pads. Our Pet Parents dog training pads provide anti-tracking & prevent your furbaby from tracking their mess throughout your home.
SO MANY USES. ONE CONVENIENT PAD - Pet Parents premium washable whelping pads are perfect for protecting crates, pet carriers during trips, travel pee pads, whelping pads, protecting furniture from pet fur & smell, lining kennels & playpens, post-surgery bedding, protection for your car seats, under food bowls or litter boxes, and easily folds up for convenient and mess-free travel!
Non Slip Washable Peepads Navy Blue
Size - 35.4" x 35.4" larger than most similar products.It can be folded for easy storage.This bowl mat can also be used as a pet pee pad or a bed mat for dogs cats puppy,you can even use it for training small pets or as a temporary car pet mat when travel with pet
Super Absorption & Waterproof - The pee pad is designed to absorbs liquid fast and entirely. Waterproof guaranteed with high quality material. Completely leak-proof with waterproof PVC material on the bottom,there are anti-slip silica gels on the bottom side of the fabric, which keep the pad staying in place.
Four-Layer Design - 100% polyester knitting fabric surface and bottom for ultra comfortable and soft;super absorbent high density inner layer and breathable waterproof middle layer. Our pads are with flexible material can easily be cleaned, it's machine washable
Non-Slip - Anti-slip silica gel bottom design keeps mat from sliding on the floor, prevent your four-legged friend. The navy blue color can matches your different household styles
Small Pet All Natural Pine Pellets
This is what we use to potty train our puppies from about 3-4 weeks on. We start with a small potty pool and teach them that the pine pellets means potty time. As they get older we then will put some of these pine pellets in the yard and carry them out to that spot when it's time to go! This is a great way to get them going outside because they associate these pine pellets with potty by this point and have already been trained to only go here. It also is a great way to train them to go in one specific area of the yard which makes cleanup and poop scooping way easier! I'm not saying there won't be accidents and training involved, but this is the easiest way we have found to help them make the transition :)
100% All Natural Pelleted Pine. No Additives, No Chemicals.
Easy Spot Clean Up.Pine Pellets, Unlike Clay will stay in the box, Clay Can Stick To Pet, Leaving Messes In The Residence
Natural Pine Scent Eliminates Odors.
Low Dust, Triple Screened.
Included Components: Pelleted Pine Litter
Product Not Intended For Use With Other Litter Systems, Including Breeze System. Pine Pellets Are All Natural, Unlike Other Litters In The Market
Metal Litter Scoop
While ideally we want your puppy going outside with no accidents, the reality is that they are still babies and can't hold it very long. That's why I recommend buying a scooper and large litter box to put some pellets in for times when you have to leave your new baby for more than 2 hours. Again, I recommend this over pee pads. It's much easier to teach them potty training going from this to outside.
☀ PATENTED TABS DESIGN ☀ With Latest Update ROUND TEETH, our cat litter scoop makes it much faster to clean your litter box, patented genius design of metal tabs lets you quickly remove dirty/ stubborn litter adhering to cat box by this cat scooper.
☀ DURABILITY/ STRENGTH ☀ The litter scooper comes with LONGER and durable metal joint, it avoids the breaking or bending of rubber grip. Ergo rubber handle helps you feel comfortable and easier to scoop cat poop. Our litter scoop owns 4 non-slip tabs preventing fall-off of handle.
While ideally we want your puppy going outside with no accidents, the reality is that they are still babies and can't hold it very long. That's why I recommend buying a scooper and large litter box to put some pellets in for times when you have to leave your new baby for more than 2 hours. Again, I recommend this over pee pads. It's much easier to teach them potty training going from this to outside.
The jumbo cat litter box features a wide base to keep mess contained within the pan for litter-free floors. It features a rim on all sides to easily lift & move the pan. Dimensions "18.5 x 15.3"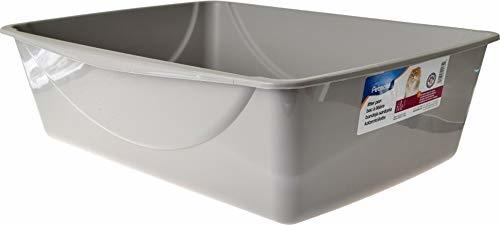 Thieves All Natural Antibacterial Household Cleaner
Thieves Cleaner is all-natural multipurpose cleaner is full of antiseptic properties yet NO harmful chemicals, which make it perfect for cleaning up after your pup, while having the reassurance that it won't harm he/she if they happen to smell it, walk through it, or even lick it like most chemicals would do. This is the only cleaner I'll use on to clean our dog bowls and also to wipe down our whelping boxes for our brand new sensitive newborns. I'll even throw some in our load go whelping blankets. One of the most organic cleaning products on the market and has been proven in studies to clean better than Lysol.
the link above and type in member # 3668425 at checkout to order